If you read your Bible regularly or pray often, you might find yourself wanting something more.
Unfortunately most Christians are taught a pretty basic form of prayer, usually petitionary in nature. Meaning, our prayer is usually asking for something.
But if you look at scripture, and the practices of contemplatives and mystics, you'll find that words aren't necessary when it comes to prayer. In fact, most contemplatives emphasize using as few words as possible.
"Silence is God's first language; everything else is a poor translation."

Thomas Keating
You may have noticed that I'm already talking about contemplatives a lot. This is because contemplative prayer, in my opinion, is the highest form of prayer.
Why contemplative prayer is the highest form of prayer
I was born and raised in Christianity. My dad was a pastor, my grandpa, and all of my uncles on my dad's side. I've been a part of methodist, non-denominational, and pentecostal churches.
But I was taught to seek the spirit of God by my mom. From an early age, she showed me how to seek God's presence, and trust my intuition. This gave me a desire for a real relationship with God above all else.
Through lots of trial and error and study, I stumbled across St. Augustine, A.W. Tozer, Brother Lawrence, Thomas à Kempis, and more. Little by little, I came across dozens of contemplatives, writers, and mystics that sought that presence of God above all else.
No requests, no words, no religion, no dogma, no rituals, no institutions, no legalism – Just the loving pursuit of a loving God.
"I want the presence of God Himself, or I don't want anything at all to do with religion… I want all that God has or I don't want any."

A.W. Tozer
This is contemplative prayer. It is to "gaze" on who God is, in all His glory – His infinite love, joy, peace, kindness, goodness, and wisdom.
"The highest science, the loftiest speculation, the mightiest philosophy, which can ever engage the attention of a child of God, is the name, the nature, the person, the work, the doings, and the existence of the great God whom he (Jesus) called his Father."

J.I. Packer
His yoke is easy
In a church we used to go to, we went to small group every week. One week, the group started talking about that bit where Jesus said:
"Come to me, all who labor and are heavy laden, and I will give you rest. Take my yoke upon you, and learn from me, for I am gentle and lowly in heart, and you will find rest for your souls. For my yoke is easy, and my burden is light."

Matthew 11:28-30
I forget what exactly the context was, but I started talking about the verse meaning exactly what it says, that a relationship with Jesus should feel easy, restful, and healing.
Another leader in the group disagreed, saying that obeying Jesus is hard, that it seems like we will never be or do enough.
I was bummed to hear that. I feel like too often that is the belief of Christians, that we all have these hoops we need to jump through in order to obey Jesus, and then we will be accepted in His sight. If we go to group, evangelize, read our Bible every day, etc, we will finally be good enough.
But the good news of Jesus is that we don't need all that. He just wants relationship. His burden is easy, His yoke is light.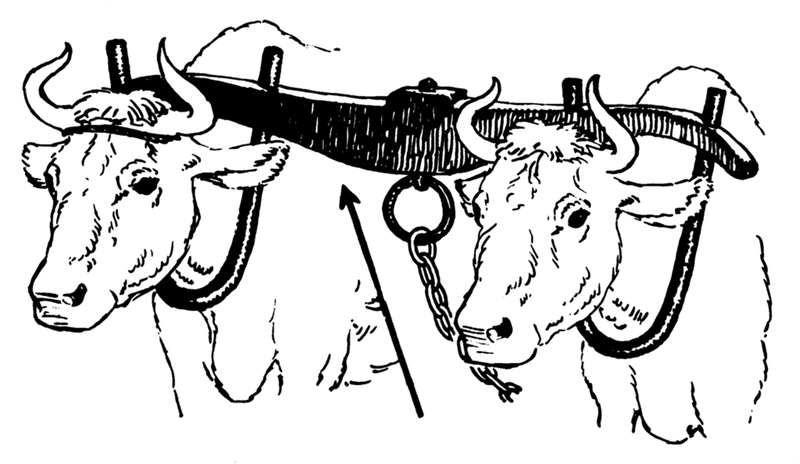 You probably know this, but a yoke was commonly used as a binding around the necks of oxen while plowing.
Jesus literally is saying, "my bondage is light".
He is our home
Again Jesus said in John 15:
"Abide in me, and I in you. As the branch cannot bear fruit by itself, unless it abides in the vine, neither can you, unless you abide in me. I am the vine; you are the branches. Whoever abides in me and I in him, he it is that bears much fruit, for apart from me you can do nothing. If you abide in me, and my words abide in you, ask whatever you wish, and it will be done for you. By this my Father is glorified, that you bear much fruit and so prove to be my disciples."
To abide is to live in or remain stable in something.
When we abide in God, we are living in Him. He is our home. And there is no place like it.
So plop up your feet. Stay a while. Meditate on who God is and rest.
How to practice contemplative prayer
"The story is told of Mother Theresa that when an interviewer asked her, "What do you say when you pray?" she answered, "I listen."

The reporters paused a moment, then asked, "Then what does God say?" and she replied, "He listens."

It is hard to imagine a more succinct way to get at the intimacy of contemplative prayer."

Marilyn Chandler McEntyre
To practice contemplative prayer, you simply must contemplate God.
Simple, right?
The problem is, our inner weather gets in the way – Our worry, stress, anxiety, doubt, anger, envy, frustration, overwhelm, and much more.
These emotions and mental states can all hold us back from seeing God with clear vision. They are distractions – Mud covering up the glass.
In my guide to happiness and mental health, I mention 3 steps to practicing contemplative spirituality and meditation:
Let go
Transcend
Contemplate infinite awareness (or God)
But really, this can be reduced to one step: Contemplate God.
As you sit in silence, worries and an endless number of emotions can pop up. Contemplate God instead. Negative emotions will keep popping up. Contemplate God instead.
Contemplation takes effort and repetition. As our minds try to attach themselves to unhealthy stresses, worries, and emotions, attach yourself to God instead. Letting go little by little eventually results in letting go completely.
Then the only thing that's left…is God.
"Contemplative prayer removes us from the driver's seat."

Ed Cyzewski
Companionable silence
"When we really want to hear, and be heard by, someone we love, we do not go rushing into noisy crowds. Silence is a form of intimacy. That's how we experience it with our friends and lovers. As relationships grow deeper and more intimate, we spend more and more quiet time alone with our lover. We talk in low tones about the things that matter. We do not shout them to each other. We may shout about them to others, but quietness is the hallmark of love."

J. Brent Bill
I have a friend named Gabe. He's cool. Whenever it's just me and him in a room say, at his house, a lot of the time we don't talk. He might be reading, I might be writing, but we don't have to talk. We're comfortable with each other. We feel safe with each other. We enjoy each other's company, and we don't feel the need to fill the silence with conversation.
It's the same in our relationship with God. The core ingredient of contemplative spirituality is silence.
So be cool with the silence. It's good. Embrace it. It's the sign of real friendship. The highest kind of friendship, in fact.